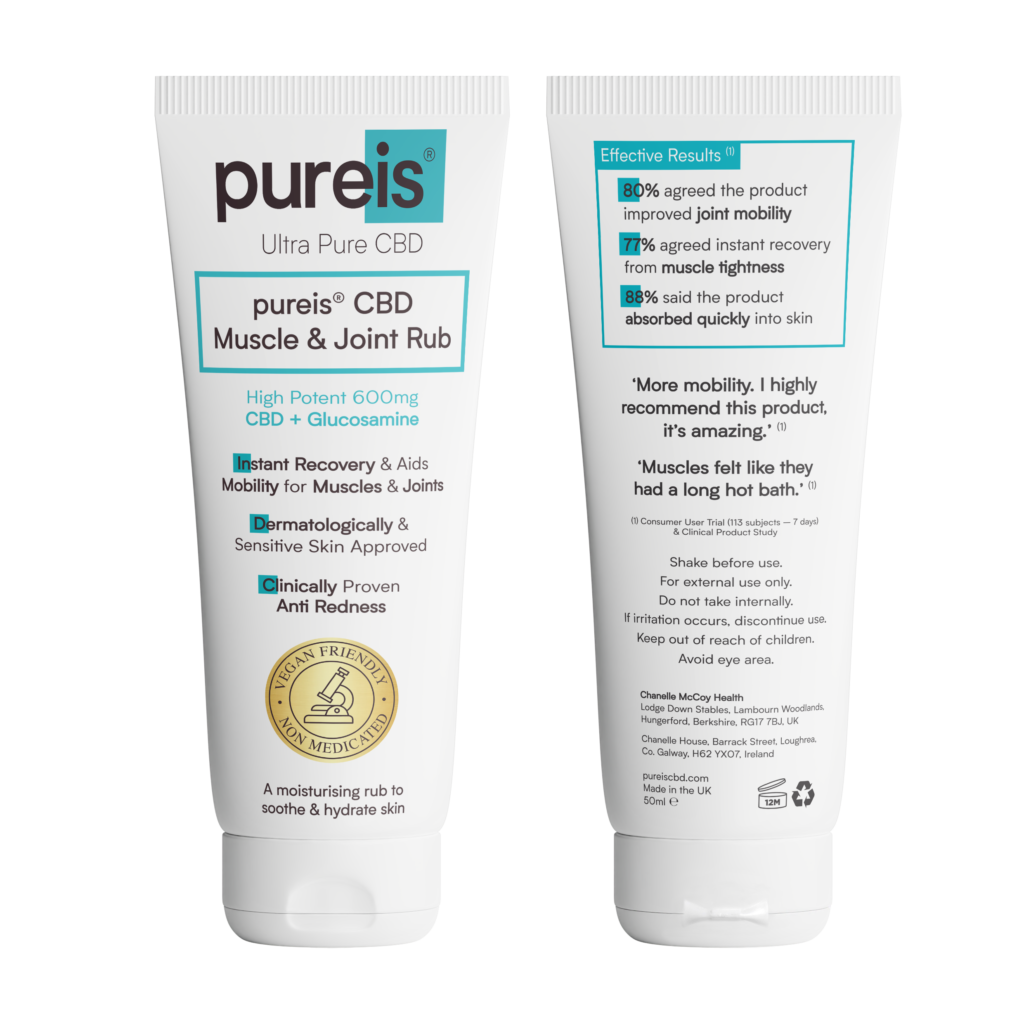 Pureis® CBD Muscle & Joint Rub
High Potent CBD 600mg + Glucosamine
This product is classed as a cosmetic on UK market, and has been both Clinically Tested and User Trial approved, permitting the claims below:
Instant Recovery & Aids Mobility for Muscles & Joints
Dermatologically & Sensitive Skin Approved
Clinically Proven Anti Redness
Backed by Clinical Studies
Non Medicated
80% of 113 participants agreed the product improved joint mobility.
77% agreed instant recovery from muscle tightness.
We completed a Clinical Erythema Trial and the results were statistically significant to prove our product reduces inflammation, i.e. redness. Dermatologically Tested.
50ml, white recyclable plastic tube with carton. Manufactured in the UK. Connected Packaging – Augmented Reality (AR).
Since 2019 CBD has been included in the EU database of cosmetic ingredients (CosIng) with synthetic CBD being the first to gain entry. The raw material in this product is synthetic/lab-made CBD, making it Ultra Pure.
The CosIng database has listed the following functions for CBD:
Antioxidant
Anti-seborrheic
Skin conditioning
Skin protecting
These functions suggest CBD could be used to protect the skin from oxidative and environmental damage and ease inflammatory reactions.
EU and various other counties requires cosmetic products to hold a Product Information File (PIF); the registration documentation to support filing of a cosmetic notification, this requirement differs region to region and will need to be assessed on a case-by-case basis.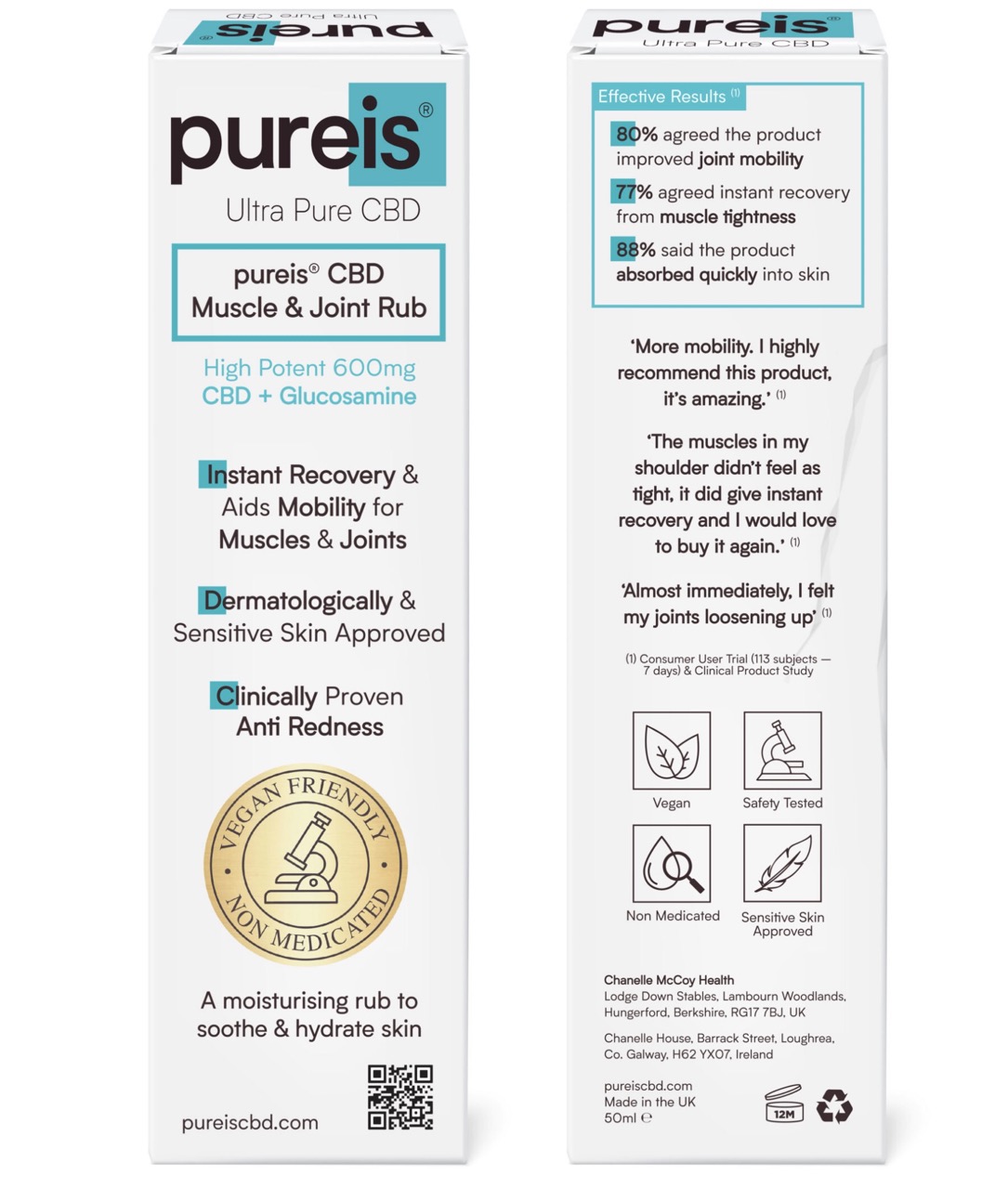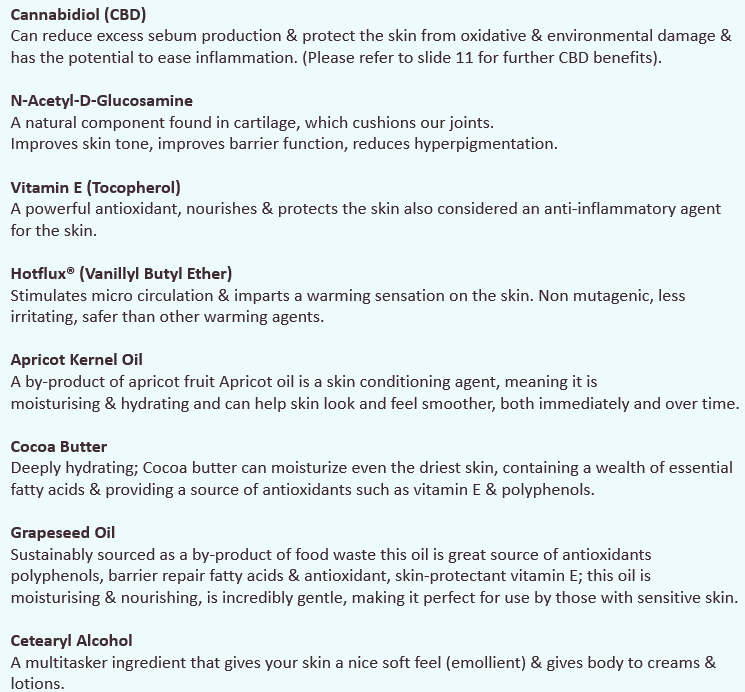 There is growing consumer interest in a non-medicated solution to provide relief short and long-term. Culturally people try a Topical pain solution before an Oral pain solution for muscle and joint pain.
The CBD skincare market share is expected to increase by USD 1.64 billion from 2019 to 2024, (Technavio, 2023).
www.technavio.com/report/cbd-skincare-market-size-industry-analysis?nowebp